How To Update Your Home One Room At A Time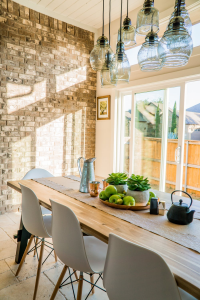 How To Update Your Home One Room At A Time
 For the last year and a half, we've been living in what feels like total isolation. Between lockdowns, social distancing, and uncertainty for the future, the pandemic was a downer for everyone. But, things are starting to look up, and you can expedite that process by making small changes to your home that lend well to your quality of life. Need ideas? Courtesy of real estate expert Deanna Parnell, here is a quick room-by-room run-down of ways to improve the place where you hang your hat.
Bathroom
Whether you simply use it for necessary business or enjoy pampering yourself with a long bath each evening, your bathroom is a crucial component of your home. If it's time to give this space a refresh, a trusted local remodeling contractor can give you the bathroom of your dreams with a complete renovation. Search "home remodeling near me" and check out reviews on a site like Angi to find a qualified contractor to update and improve your bathroom. On a budget? No problem. You can also opt to have your bathtub and tile reglazed for a brand-new look.
Kitchen
You likely spend more time in your kitchen than you do in any other room of your home. Unfortunately, this means wear and tear on some of our more expensive assets: our appliances. If you've got a burner out on the oven, a dishwasher that won't drain, or a fridge that won't get to temp, look to an appliance repair specialist to address your problems as soon as possible. Since your appliances are expensive pieces of equipment, be sure you find an expert you can trust. Check out reviews, and don't forget to see who's offering the best deals. Once your appliances are up and running, a coat of paint, new cabinets, and upgraded countertops will do a world of wonders for your kitchen.
Living Room
When it's time to settle in for a movie, turn your living or family room into a true lounging sanctuary. Start by cleaning the carpets or refinishing the hardwood, and then rearrange the furniture. If you have it in your budget, buy a larger television and surround sound system or soundbar. Hang new curtains that let the light in during the day but block out distractions in the evening, and gather a few new throw pillows.
Bedroom
You likely spend at least 7 to 8 hours in your bedroom each night. Because of this, it's important to have a space that is conducive to sleep. Start by changing up your linens, updating the lighting or adding a throw rug. If you live in a noisy neighborhood, Soundproof Central explains you can limit noise by investing in double glazed windows. Though you can address this more affordably with earplugs and a white noise machine.
Dining Room
Even if you don't use your dining room every night – if it's reserved for special occasions – you want it to be elegant and cozy. When you don't want to spend the money on a new dining table, consider adding new pendulum lighting to make a statement and change up the space. If you're of a mind, you could also refinish your dining room table, reupholster the chairs, or simply lay a table runner and add a centerpiece.
Outdoor Spaces
Now that summer is here, we are all spending more time outside. If you don't have one already, plan to install a patio, small outdoor kitchen or outdoor dining area. The more recreational areas you have, the more you'll want to invite friends and family over for backyard cookouts.
There are plenty of reasons to invest in your home. When you plan to stay, the improvements listed above will make your house a more comfortable space. If you plan to sell, these updates will be more attractive to buyers. It's a win-win situation. Don't wait. Look around, and start planning your refresh today!
This article was provided by Megan Cooper of RealLifeHome.net.
Image via Pexels